Skip to Content
All training at Companion Veterinary Clinic is temporarily unavailable. ⠀
Due to the pandemic and availability of our trainers we will not be taking any new training clients or running classes until Feb. 2021. The health of our clients and trainers is our upmost priority. We look forward to re-evaluating in the new year and hope to resume in person training at that time.⠀
To be notified when training resumes, please email us  and indicate whether you're interested in Private Training or Group Classes and we'll contact you when sessions are available.
Keep in touch with us on Facebook and Instagram where we'll share interesting articles, training tips and more!
Meet Our Dog Trainers
Companion Dog Training offers professional positive, science-based methods of training and behaviour modification. We work in all of our classes and private sessions to ensure your dog can focus on your on and off-leash. Our classes are fun, positive and designed to increase the bond between you and your dog!
Jessica Benoit
RVT, CPDT-KA,
KPA CTP

, Fear Free Certified Trainer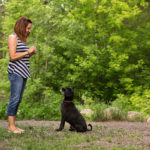 Jessica Benoit was born and raised in Edmonton, Alberta. She shares her life with her wonderful husband, daughter, son, and their four dogs and cat. She is passionate about teaching pet parents how to best motivate and connect with their pets. She is always learning about the newest science-based methods of training to better serve her clients. She has a special interest in teaching children how to best interact with dogs and understand their body language, so everyone can stay safe and enjoy their pets.
Jessica is a Registered Veterinary Technologist, Certified Professional Dog Trainer-Knowledge Assessed, Karen Pryor Academy Certified Training Partner, and Licensed Doggone Safe presenter. Jessica is Fear Free certified as a trainer, veterinary professional, and is an approved Fear Free speaker. She is currently working towards her specialty in behaviour as a Veterinary Technologist.
Chantal Turcotte

KPA CTP

, Fear Free Certified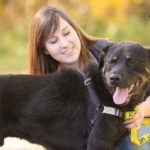 Chantal began studying the science of dog training through the Edmonton Humane Society's Dog Behaviour and Training Methodology course. She has been involved in a mentorship program with Jessica Benoit for the past two years through Companion Veterinary Clinic.
She is currently teaching our Puppy Socialization and Exploration class, Puppy Foundations classes, Trick Training 101 and Mind your Manners. Chantal attends continuing education seminars on postive, science based methods of training regluarly.
Chantal has graduated from the world renowed Karen Pryor Academy Dog Trainer Professional program and is certified fear free.
Chantal always had an interest in animals and surrounded herself with them as much as possible. She became interested in training and behaviour after getting her rescue dog, Blu and has attended multiple classes with her taught by positive, force-free trainers. Chantal shares her life with her husband, 2 kids and 2 dogs.
Shelby Mildenberger
RVT,
KPA CTP

, Fear Free Certified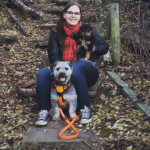 Shelby has been a Registered Veterinary Technologist with Companion Veterinary Clinic since graduating from NAIT in 2017. Shelby became interested in animal behaviour when she got her first rescue dog, Chia, and she is working towards specializing in that area. She is passionate about teaching pet parents how to interact with their pets in a positive, fear free manner and has been mentored by both Jessica Benoit and Chantal Turcotte.
Shelby teaches Puppy Socialization, Puppy Foundations, Advanced Puppy Foundations and Foundations and Focus for Adult Dogs. She also sees clients for private sessions in their homes. She is Fear Free certified and Low Stress Handling certified. She also graduated from the Karen Pryor Dog Training Professional Program with distinction in October of 2019.
In her off time Shelby enjoys spending time with her husband, two dogs, three cats, bunny and hedgehog.
Companion Veterinary Clinic Is Your Source for Your Pet's Healthcare Information