Skip to Content
Meet Our Dog Trainers
Companion Veterinary Clinic's  Training Team offers professional positive, science-based methods of training and behaviour modification. We work in all of our classes and private sessions to ensure your dog can focus on you on and off-leash. Our classes are fun, positive and designed to increase the bond between you and your dog!
Jessica Benoit
RVT, VTS (Behaviour), CPDT-KA,
KPA CTP

, Fear Free Certified Trainer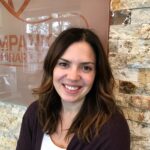 Jessica graduated from the NAIT Animal Health Technology program in 2010. In addition to being a Registered Veterinary Technologist, Jessica is a Veterinary Technician Specialist in Behaviour; she is the second Veterinary Technologist in Canada to earn this designation and among 25 in the world. She is also a Certified Professional Dog Trainer, Karen Pryor Academy Certified Training Partner and Fear Free Certified veterinary professional, trainer, and speaker.
Jessica is proud to be the co-owner of Companion Veterinary clinic, a Fear Free Certified Practice since 2018. She developed the training and behaviour program at Companion Veterinary Clinic in 2013, developing curricula for dog training classes, kitten classes, trick training, and offering private training and behaviour modification sessions. Her goals have always been for clients to see their veterinary clinic as the first step to helping them with their pet's behaviour, and to ensure the emotional welfare of patients during veterinary visits.
She is passionate about teaching pet guardians how to best motivate and connect with their pets using positive, science-based methods of training. She has a special interest in teaching in cooperative veterinary care and enjoys training canine and feline patients to have control and choice during veterinary examinations and procedures.
Jessica enjoys educating and sharing her knowledge through speaking engagements which include Doggone Safe presentations for children, guest lecturing for post-secondary institutions, providing client education seminars as well as continuing education events for veterinary professionals. In addition, she provides mentorship for veterinary technologists and trainers interested in animal behaviour.
In her spare time, she loves being outdoors with her husband and two children, 3 dogs, 1 cat, and 10 chickens!
Chantal Turcotte

KPA CTP

, Fear Free Certified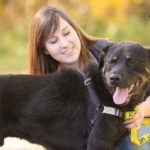 Chantal began studying the science of dog training through the Edmonton Humane Society's Dog Behaviour and Training Methodology course. She has been involved in a mentorship program with Jessica Benoit for the past two years through Companion Veterinary Clinic.
She is currently teaching our Puppy Socialization and Exploration class, Puppy Foundations classes, Trick Training 101 and Mind your Manners. Chantal attends continuing education seminars on postive, science based methods of training regluarly.
Chantal has graduated from the world renowed Karen Pryor Academy Dog Trainer Professional program and is certified fear free.
Chantal always had an interest in animals and surrounded herself with them as much as possible. She became interested in training and behaviour after getting her rescue dog, Blu and has attended multiple classes with her taught by positive, force-free trainers. Chantal shares her life with her husband, 2 kids and 2 dogs.
Chantal is on maternity leave and not accepting new clients at this time.
Shelby Mildenberger
RVT,
KPA CTP

, Fear Free Certified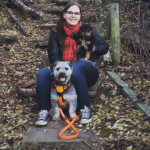 Shelby has been a Registered Veterinary Technologist with Companion Veterinary Clinic since graduating from NAIT in 2017. Shelby became interested in animal behaviour when she got her first rescue dog, Chia, and she is working towards specializing in that area as an RVT. Prior to becoming an RVT, Shelby was a Licensed Practical Nurse. She is passionate about teaching pet parents how to interact with their pets in a positive, fear free manner and strives to provide owners with the necessary tools to create the best bond with their pets.
Shelby teaches Puppy Socialization, Puppy Foundations, Mind Your Manners, Advanced Puppy Foundations, and Foundations and Focus for Adult Dogs. She also sees clients for private sessions in their homes and works on cooperative veterinary care/ fear free sessions in the clinic as well. She is Fear Free certified and Low Stress Handling certified. She also graduated from the Karen Pryor Dog Training Professional Program with distinction in October of 2019.
In her free time, Shelby enjoys spending time with her family and friends, spending time outdoors, and being active – whether it's going to the gym, kickboxing, or running around with her 8 pets of her own. She also currently works with CAAWLS assessing therapy dogs as well.
Companion Veterinary Clinic Is Your Source for Your Pet's Healthcare Information