Meet Our Dog Trainers
Companion Dog Training offers professional positive, science-based methods of training and behaviour modification. We work in all of our classes and private sessions to ensure your dog can focus on your on and off-leash. Our classes are fun, positive and designed to increase the bond between you and your dog!
Jessica Benoit RVT, CPDT-KA
Jessica Benoit was born and raised in Edmonton, Alberta. She shares her life with her wonderful husband, daughter, son, and their four dogs and cat. She is passionate about teaching pet parents how to best motivate and connect with their pets. She is always learning about the newest science-based methods of training to better serve her clients. She has a special interest in teaching children how to best interact with dogs and understand their body language, so everyone can stay safe and enjoy their pets.
Jessica is a Registered Veterinary Technologist, Certified Professional Dog Trainer-Knowledge Assessed and Licensed Doggone Safe presenter. She is Fear Free certified and is currently working towards her speciality in behaviour as a Veterinary Technologist.
Professional Memberships Include:
Alberta Association of Animal Health Technologists
Certification Council of Professional Dog Trainers
Society of Veterinary Behavior Technicians
Erin Jones MSc, CPDT-KA, CDBC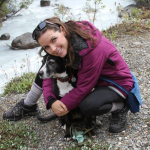 Erin is a certified professional dog trainer (CPDT-KA) through the CCPDT and a certified dog behaviour consultant (CDBC) through the IAABC. She is an experienced trainer and has worked with many species throughout the years– from birds, exotics, horses and of course dogs. She also has her masters of science degree in Anthrozoology (the study of human and nonhuman animal interactions). She was a teaching assistant and guest lecturer at Dalhousie University in Halifax, Nova Scotia for the past two years in the Animal Physiology and Advanced Animal Behaviour classes, and has guest lectured at other universities on various nonhuman animal related topics. She enjoys educating and lecturing on various dog behaviour and training issues, and working with dogs and their families directly to teach everything from basic manners and foundation skills, strengthening the human-dog bond, and behaviour issues such as anxiety, fear, aggression and other related behaviours.
Chantal Turcotte, Dog Trainer
Chantal began studying the science of dog training through the Edmonton Humane Society's Dog Behaviour and Training Methodology course. She has been involved in a mentorship program with both Jessica Benoit and Erica Cheung for the past year through Companion Veterinary Clinic. She is currently teaching both our Puppy Socialization and Exploration class as well as our Puppy Foundations classes, Trick Training 101 and Training Your Teenager class. Chantal will be writing her Certified Professional Dog Trainer exam in the near future. Chantal always had an interest in animals and surrounded herself with them as much as possible. She became interested in training after getting her dog, Blu and has attended multiple classes with her taught by positive, force-free trainers. Chantal loves to foster and rescue animals and is always looking to expand her knowledge in training. She currently has two dogs and two cats.
Companion Veterinary Clinic Is Your Source for Your Pet's Healthcare Information