Skip to Content
The Benefits of Virtual Dog Training
We've taken our Dog Training classes online! In light of the current recommendations from Alberta Health Services and the Alberta Veterinary Medical Association, we're keeping our contact with humans and animals to only what is absolutely medically necessary – But that doesn't mean the training and the fun has to stop, we've just had to get a lot more creative!
We have a variety of virtual classes available for online registration such as; Puppy classes, Trick Training, Nail Care (Did you know with our help you can teach your dog to file his/her own nails?!), and Basic Manners classes that incorporate distraction, duration and distance to behaviours like sit, down, place and loose leash walking.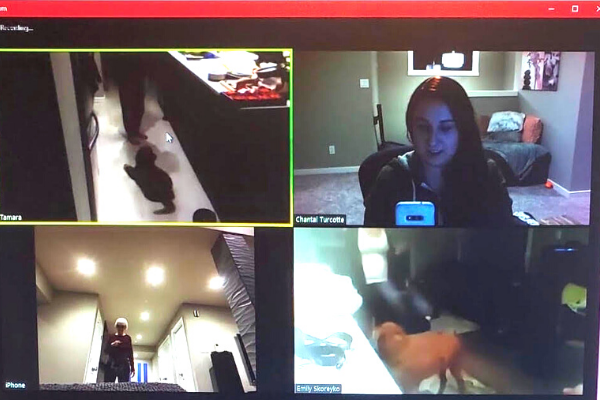 THE BENEFITS OF ONLINE TRAINING CLASSES FOR YOUR DOG:
Although we certainly miss seeing all of you in person, there are some great advantages to Virtual Training Classes:
If your dog was previously unable to take part in group classes due to anxiety or difficulty being around other dogs, you can now take part,
It's less distracting for your pet – this is especially advantageous if your pet is easily distracted  by new people, places and other dogs,
We record the session so you can reference it later on.
WHAT YOU CAN EXPECT:
After you register, you'll receive a confirmation email with a link to your virtual classroom and instructions about how to access it. In addition to that, some classes have an online orientation webinar for you to watch as well as resources and handouts that you can access in preparation for your class. You're also invited to email our training team prior to your first class if you have any questions or concerns that you wish to discuss.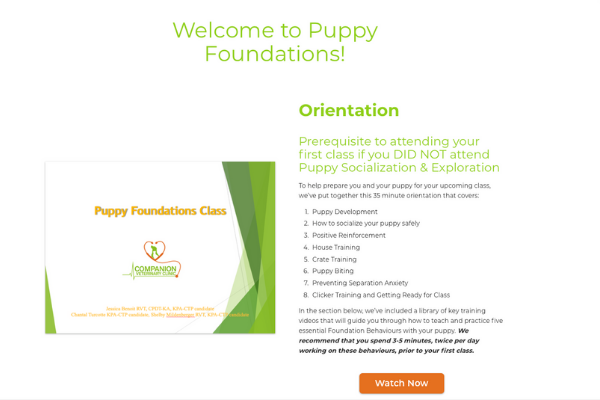 Through our Virtual Classroom, we'll focus on developing a strong bond between you and your dog based on trust and positive interactions. Each week, our trainers will guide you through a variety of exercises for you to do with your dog, give you feedback in the moment and provide you with coaching for common behaviour concerns.
A note on socialization: The sensitive period of a puppy occurs between the ages of 3-16 weeks of age. This is the most important period of your dog's life. They need to be exposed to the world. Albeit, slowly, controlled and positive, but it can not wait. Although we're currently unable to safely socialize puppies with each other, we have come up with some creative ways for you to introduce your puppy to new experiences and help them explore their environment to build their confidence during this sensitive period in their development. To get started socializing your puppy, here's a great post from Psychology Today.
GETTING READY FOR YOUR VIRTUAL TRAINING CLASS
Even though classes are taking place at home, it's still a new and different experience for your dog. Here are a few things you can do to prepare them to get the most out of your session:
In the days leading up to your first class, decide where in your home you plan to take the class and get your dog used to being there by hosting your own playtime session. Put down a training mat (a yoga mat or bath mat with a sticky bottom works well ) and help them get used to the space. Bring in some toys, have some treats placed around the area and show them that fun and awesome things happen in this space.
Think about the kinds of noises that will happen during the session (dog barking, strangers talking, etc.) and set up your computer to play some of these sounds during your playtime session.
On the day of your class, have everything you need ready to go in the space. Refer to your confirmation email for a list of what is needed but for most classes, you'll need a training mat, 6 ft leash, high value treats (most dogs go crazy for Benny Bully's!), a clicker and toys.
After each class, we'll send you videos of the behaviours discussed in class and you're always welcome to reach out to your trainer in between classes to share any challenges you're having, ask questions and/or to share videos of your progress.
Our training team is committed to providing you with valuable virtual training and connection through these difficult times we're facing. If you have any questions about our classes, reach out to us at training@companionvet.ca.
For additional information about the Benefits of Virtual Training, click here to watch an online webinar with Jessica Benoit, RVT, CPDT-KA, KPA CTP, Elite Fear Free Certified Professional (Companion Animal Training), Tabitha Kucera, RVT, CCBC, KPA CTP, Elite Fear Free Certified, Low Stress Handling Certified (Chirrups and Chatter) and Gail DiMenna, LVT, CPDT-KA, KPA CTP, Elite Fear Free Certified Professional (Pawsitive DiMensions) to learn more about the benefits of learning from home.
Companion Veterinary Clinic Is Your Source for Your Pet's Healthcare Information